Red
has been driving trucks for a bit too long and consequently is one trailer short of a road train. He hasn`t had much luck with his driving (always falling over cliffs) and resents
Ty
for needing to save him.
He appears in Ty the Tasmanian Tiger 2, during the first level, where he can be seen running with a crowd at the starting, during two missions involving him having accidents with vehicles, after beating Fluffy the final time and he also shows up at the very near end of the story.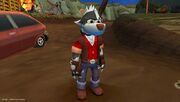 Red appears in the GBA version of Ty the Tasmanian Tiger 3: Night of the Quinkan, where he will greet Ty as he enters the testing area of New Burramudgee. After Ty defeats the Hexaquin, he deserts the rest by kidnapping Shazza and leaving her to the Dragonquin. It is unknown what happens to Red after his betrayal.
Community content is available under
CC-BY-SA
unless otherwise noted.