Parrotbeard
Character information
Age
66 years
Height
46 cm
Species
Parrot
Occupation
Pirate/Shop keeper
Behind the scenes information
Voice Actor
Bill Farmer
Parrotbeard
is an all rhyming, all riddling pirate machine as seen in
Ty the Tasmanian Tiger
. He`s best known for his treasure, his cart racing and his treasure map shop in
Ty the Tasmanian Tiger 3
.
Story
Ty the Tasmanian Tiger
He appears in the mission "Rex Marks the Spot", where only his voice was recorded and replayed in hidden treasure chests with built in speakers. Mostly just clues to point you to his real treasure witch is where you first started at. The final treasure chest will spit out a thunder egg for your effort.
Ty the Tasmanian Tiger 3
He owns a shop that sells treasure maps.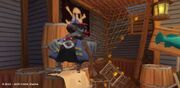 Community content is available under
CC-BY-SA
unless otherwise noted.